STCI Swim Session March 19 to June 4, 2023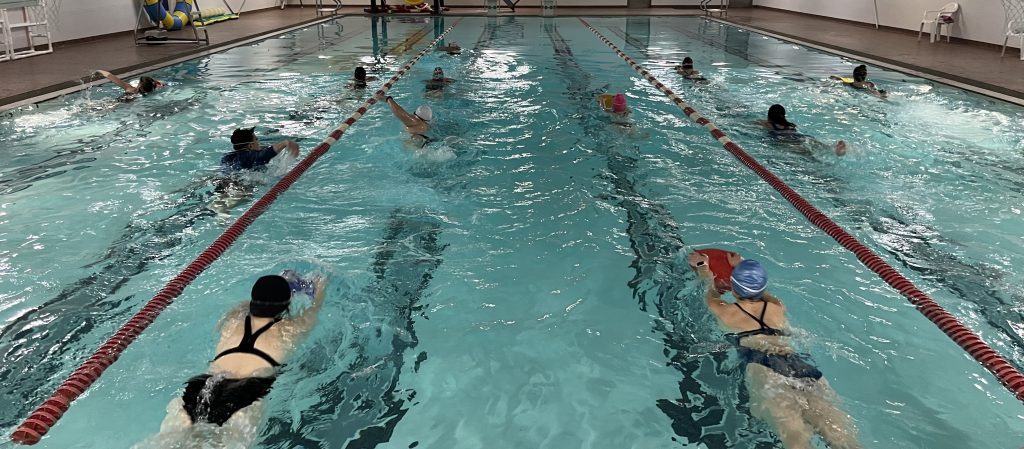 The Saskatoon Triathlon Club wants your kids to have fun!
We are pleased to provide youth ages 6 to 18 the opportunity to participate in organized instruction and training sessions and to experience the thrill of completing multisport activities and races (i.e. swim, cycle, and run). The three disciplines together create a great cross-training opportunity to provide an overall fitness routine while helping to reduce injuries from repetitive strain when focused on one sport. It also introduces variety compared to a focus on a single sport discipline. This is a benefit regardless of the age of the participant.
In general, there are two youth age bands:
Ages 6 – 12 (Introduction and Fundamental): As promoted by Triathlon Canada and developed by the Canadian Long Term Athlete Development model, this age band is provided activities to introduce the youth to physical activity through a fun, engaging, low-competitive environment. The program is not intended to be training-intensive – it's more about exploring the different sport activities in a fun learning environment. For those interested, it also offers skill improvements to boost personal confidence and achievements when participating in youth events like the Kids of Steel series.
Ages 12 – 18 (Recreational and Competitive): This age band offers two streams within the Junior Team; recreational and competitive. The recreational stream is a continuation of the age 6 – 12 program; to provide an opportunity for physical fitness and personal skill improvement. The competitive stream is for youth that have goals of achieving leading results at local, provincial, and national multisport events. Both streams are in alignment with the Canadian Long Term Athlete Development model.
Parental Involvement and Volunteering
We are currently seeking a Youth/Junior coordinator to facilitate this program. No programming can occur until this role is filled
STCI Kids Age 6-12 FUNdamentals
Looking for a great way to burn some energy, get better at multiple sports, have some fun, and meet others that want to do the same? Look no further – you've found the STCI Kids FUNdamentals Program!
​
The goal of the FUNdamentals program is to provide an opportunity for youth to participate in a multisport activity to have fun and promote fitness. Because this is a multisport activity cross-training is built-in and participants will gain overall fitness, balance and agility. Kids will also gain confidence by participating in local youth-oriented multisport events.
Both new and experienced youth are welcome to enter our free Learn to Tri clinic(s) and many of our club's annual races – including:
Wintershines Triathlon (choice of skate / ski / run) in February or March
Spring and Fall Duathlons (run / bike / run events) in May and October
Kids of Steel Triathlon (swim / bike / run) in June
Summer Splash 'n Dash series (swim / run) held in July, August and September


​Our non-profit membership based club prides itself on providing all members of our community with training and race opportunities suited to their level.
STCI Youth Age 12-18 Recreation & Competitive
This program is targeted at youth ages 12 to 18 who want to incorporate swim, bike and run into their physical activity. Program development and oversight will be provided by coaches and clubs that are experts in their fields.
Recreational participants have the objective of general fitness and to be part of a group of junior triathletes with the same goal. Options are available for swim and run sessions, with arrangements to join the recreational cycling group in the spring.
Competitive participants have the objective to excel at triathlon and multi-sport race events. These youth should expect a minimum of two to three swim sessions and two to three run sessions a week, together with a balanced addition of a cycle and strength program. Oversight of an appropriate program combining the correct balance of training in the various triathlon disciplines, together with technique and performance improvements for each, is provided by certified coaches. This stream also offers a path to the provincial team, special in- and out-of-province training clinics, and national race events.​
Brendan Mackenzie oversees the Provincial Coach duties of Triathlon Saskatchewan. His role is to increase the number of coaches across the Province, building youth components in local triathlon Clubs. He is able to assist local coaches to develop triathlon specific training programs for youth that will align with their individual goals and take into account the various competitions and peaks during the triathlon training and race seasons.
Wanted - Youth / Junior Coordinator
Local Coaches, Partner Clubs and Programs